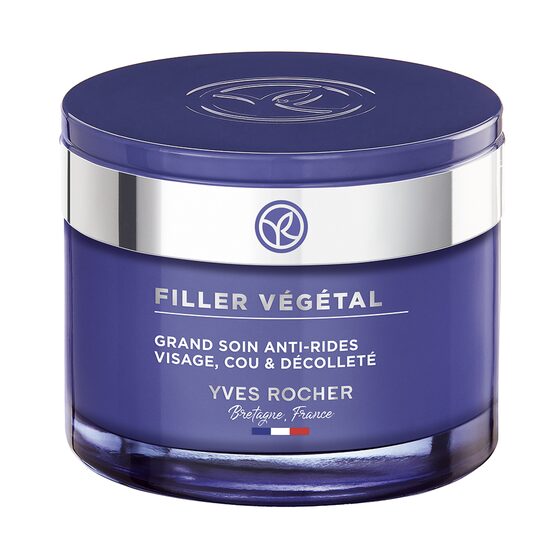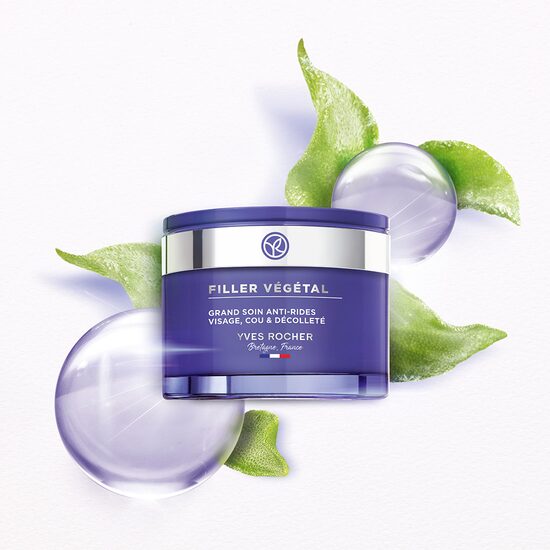 Buy at least 3 products for international free shipping!
Yves Rocher Filler Vegetal Intense Anti-wrinkle Care - Face, Neck, Neckline 75ml
American express

Apple pay

Diners club

Discover

Facebook pay

Google pay

Master

Paypal

Shopify pay

Venmo

Visa
Immediately skin is smoothed and plumped.
Day after day, it is firmer.
After 6 weeks, even pronounced wrinkles are filled in and skin is more radiant.
Texture: enveloping
How to use: 
Apply its enveloping texture morning and evening on face, neck and neckline.
Thanks to their unique knowledge of the plant world, our Botanical Beauty Researchers have selected the Ice Plant for its incredible ability to stay fresh, bouncy and full of life even in the most extreme conditions.
Its secret? The multitude of water-filled droplets and active molecules found on the surface of its stem and leaves, giving it an "icy" appearance. These small crystal-clear droplets act as reservoirs that help it retain all the freshness of its ingredients.
After 12 years of research and 3 patents, Yves Rocher Scientists have reinvented Ice Plant extract to transfer its exceptional anti-aging powers to the skin.
A DUO OF BIOSOURCED ANTI-WRINKLE INGREDIENTS at the heart of our bioscience innovation:
·Freshly extracted Ice Plant: Cultivated using sustainable agricultural practices in La Gacilly, the Ice Plant is harvested once a year at the height of its freshness and concentration in active molecules.
Yves Rocher Scientists have developed a botanical Cryoextraction technique, a cold extraction process used on the fresh plant to release and concentrate all its power while preserving the integrity of its ingredients. This exclusive and patented method is the source of our latest 100% fresh, 100% preserved botanical extract that is perfectly absorbed by skin and is without preservatives.
•Naturally-sourced Hyaluronic Acid produced from a biofermentation process : Hyaluronic acid, the most popular molecule on the market, is able to retain up to 1000 times its weight in water. It helps to hydrate skin and thus reduce the appearance of wrinkles and fine lines.
In order to offer a natural and effective hyaluronic acid in our products, Yves Rocher scientists chose fermentation, a positive, ancestral, natural and efficient transformation process that optimizes the ingredients.
We therefore use 100% natural hyaluronic acid sourced from wheat and corn glucose biofermentation in all the formulas found in the Filler Végétal line.
A CONCENTRATE OF ANTI-WRINKLE BOTANICAL EFFECTIVENESS for reinforced results:
•Hyaluronic Acid derived from biofermentation immediately retains water on the surface of the skin to produce a plumping and smoothing effect.
Skin is instantly plumped and rehydrated.
We, as Beauty Care Bag, do our best for our customers to experience the return and delivery processes painlessly. You can check our Return & Delivery process by clicking here.