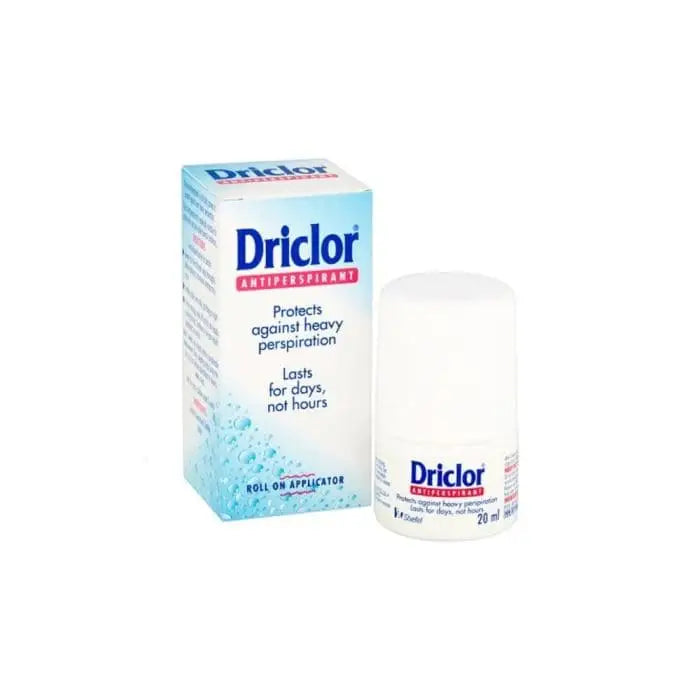 Buy at least 3 products for international free shipping!
Driclor Antiperspirant Roll-On 20ml
American express

Apple pay

Diners club

Discover

Facebook pay

Google pay

Master

Paypal

Shopify pay

Venmo

Visa
Say goodbye to wet patches with Driclor Roll-On. Its antiperspirant formula is specially designed to target sweat and keep it from ruining your day. Its parfüm deodorant scent helps to keep you feeling fresh all day, while its roll-on applicator ensures easy and precise application. Feel confident and fresh, even in the warmest weather and under pressure, with Driclor Antiperspirant Roll-On.
Driclor is a roll on antiperspirant specially developed to prevent excessive sweating. Driclor can be used for people with excessive sweating and people who sweat even under normal conditions.
Usage:
Put Driclor on a flat surface so that it does not flow and carefully open the cap on it and discard it.
Place the roller cap on the spout of Driclor and press firmly to close the cap.
Close the bottle with the large cap to protect the roller cap.
Dry the affected areas thoroughly before applying Driclor. Otherwise irritation may occur.
Initially apply a thin layer once a day, at night before going to bed. Do not apply several layers on top of each other like traditional antiperspirants, a single film layer is sufficient.
Wash the treated area in the morning. You can continue to use your daily deodorant if you wish.
When excessive sweating starts to decrease, you can reduce the application to 1 or 2 days a week. After 1-2 weeks of use, you can observe a significant reduction in sweating and reduce the frequency of use.
Product Content :
alcohol, aluminum chloride, water

&lt,
We, as Beauty Care Bag, do our best for our customers to experience the return and delivery processes painlessly. You can check our Return & Delivery process by clicking here.